Setting up a Network Video Stream
1. The first thing you are going to want to do to get your camera up and streaming on your network is to connect your camera to power, an active network port on your network, and finally, power on the camera.
2. Next, go online and download the IP Address Settings Tool. It's available for Windows & Mac OS at https://smtav.com/pages/download
3. Once you complete the download, launch the "Upgrade Tool v2.7" tool. Select your network connection type from the "Interface" dropdown menu and click "Search".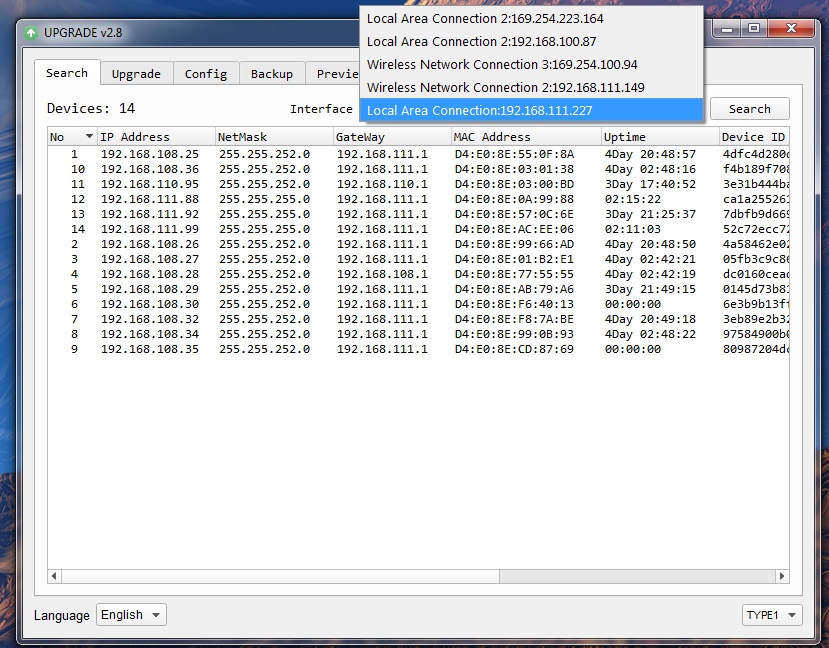 4. The next thing you would want to do is change your cameras IP address to be in the same range as your network.
The camera comes with a default IP address of 192.168.100.88.
5. Click and select the camera item you wish to change the IP address of and select "Config".

a.

You have two (2) options for assigning the IP address of your camera. You can manually assign the IP address by assigning a static IP address, or you can have a DHCP server automatically assign a dynamic IP address to your camera.


b.

Note: In more complex network environments, you may need to request a static IP address, NetworkMask, Default Gateway, & First DNS from your IT department.
6. After assigning an IP address to the camera, you can reach the Web Interface by typing in the camera's IP address into a web browser. To log in, type in "admin" into the username and password fields.
7. From the Web Interface, you can control the camera using the arrows on the left side. You can also adjust many of your camera's settings via this IP interface.
8. You can now receive an RTSP stream from your camera. To view the RTSP stream, type in "rtsp://[Camera IP address]:554/1" for the first (HD) stream, and "rtsp://[Camera IP address]:554/2" for the second (SD)stream.
9. You can test the RTSP streaming in VLC Media Player. Once VLC is installed and launched, click the "Media" drop down menu and select "Open Network Stream"
NOTE!If the camera is used for the first time with Internet connection, user must install a video player (VLC). Please go to VLC website http://www.videolan.org/vlc,download and install as instructed. After installation, login again, the home page will show.