SMTAV 4D 

Joystick 

IP PTZ Controller,

 ONVIF IP PTZ Camera Controller with LCD Display, 

Automatically Search for Cameras

ASIN: B07B1ZJRD9
Network IP PTZ Camera controller enjoys separate IP address.max control 253 ip camera in the same network segment. Support IE browser on adding configuration of front-end parameters.
Support ONVIF protocol and integrated with many ip zoom module brands such as Hikvision, Dahua, TVT etc.
Quick-response 4D joystick control of pan,tilt,zoom with variable speed and practical short-cut function keys such as focus, zoom, iris, preset, patrol, etc.
Clear LCD Screen to display camera information. Support adding ip devices offline. Support automatically search ip devices.
Widely applied in dedicated surveillance system in the school, hospitals,hotels, factory, workshop and so on, to achieve a more rapid and precise control of the ptz cameras.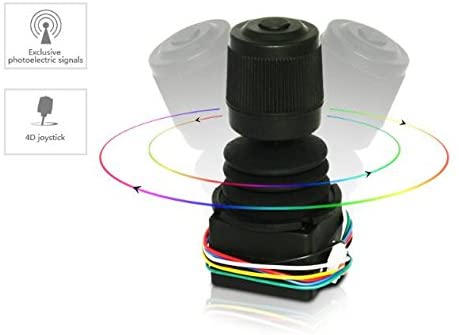 Power supply

DC12V-1A/ positive outside negative inside

RS485

3.81 pitch terminal,TA,TB

RS232

Db9 male port

Ethernet

RJ45,IEEE 802.11b/g/n

Support protocol

Onvif 2.4

browser

IE、Firefox、Chrome、Safari and so on.

Work temperature

0°C~55°C / 14°F~131°F

Storage Temperature

-10°C~60°C / 14°F~140°F

Storage humidity

0~90%(frostless)

Work humidity

20%~80%(frostless)

certification

CE、FCC、RoHS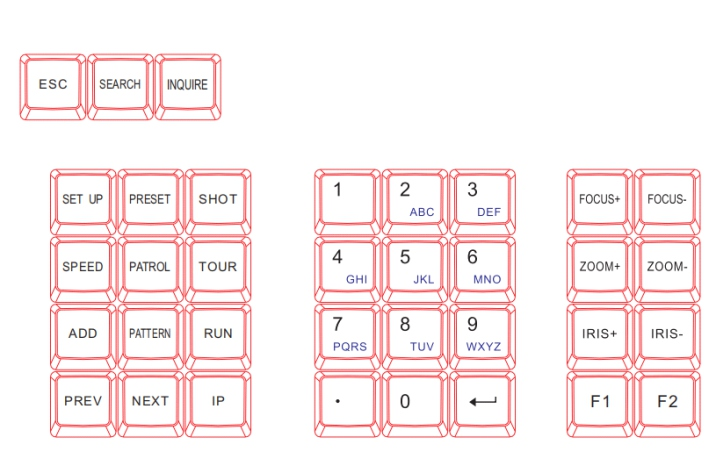 IP Keyboard Function Keys
(When ONVIF Control)
ESC: back to previous menu or exist.
SEARCH: Search for devices in the current LAN that support the ONVIF protocol.
INQUIRE: The added device is saved in the query.
SET UP: Go to the keyboard menu, where You can set the language, set whetherthe network
type is dynamic or static, and view the IP of the network keyboard.
SPEED: Adjust the keyboard control the camera speed (total three speed levels).
ADD: The keyboard is added in the search state with the current screen IP, in theother state
is manually added (need to enter the camera IP and Onvif Port) .
PREV: When the connection state is reached, connect a saved device on the keyboard.
NEXT: When the connection state isreached,connectthenextsaveddeviceonthekeyboard.
IP: Combination Key (address + number + ↵). Quick connection the added device, the number
represents the address, address need to use PC to login the keyboard' sIP address and make
settings.
Combination Key (address + number +↵). Quick connection the added device, The numbers
represent the digits following the last decimal point of the IP address. For example
192.168.0.200, the number is 200.
PRESET: Combination Key (PRESET + number + ↵), to set camera preset.
SHOT: Combination Key (SHOT + number + ↵), to run camera preset.
PATROL: for security camera use.(not supported)
TOUR: for security camera use.(not supported)

PATTERN: for security camera use.(not supported)
RUN: for security camera use.(not supported)
FOCUS+/FOCUS -: to adjust focus. ZOOM+/ZOOM-: to adjust zoom
IRIS+/IRIS-: to adjust iris F1.F2: reserved, not use right now.

Works, but not user-friendly and limited functionality.
I bought this unit to control three BA20s cameras, which I also bought through SMTAV. To enable the ONVIF protocol on these cameras you need to access their web-based menu via their IP address and then reboot them (I found this out the hard way). The instructions which come with the controller are brief to the point of being inadequate and the setup process unintuitive. You can't call cameras by an alias, like Camera 1 or 2, only see them referenced by IP address. The web-based software for the keyboard has no instructions at all and very limited functionalilty. The variable speed pan and tilt function (by moving the joystick further from the centre) seems to only work intermittently, and because there are no detailed instructions it's hard to work out if this is a settings issue or a controller issue. There is no control available over zoom speed as far as I can see. Focus adjustment, once used, disables autofocus until the camera is rebooted. The unit works using power over ethernet but this is not mentioned in the instructions. It was cheap, and the poor user-support for the product and its limited functionality are consistent with the price.